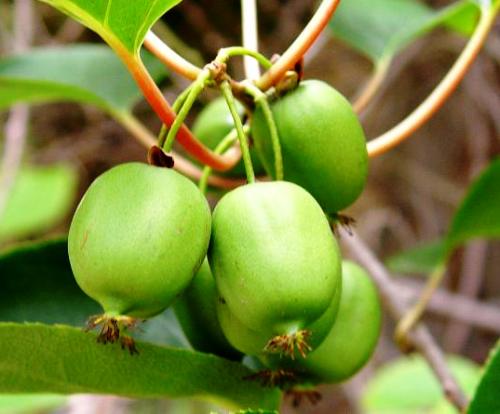 Actinidia arguta - also considered a fruit and honey-bearing liana, in nature it is found in the south of the Ussuri region, as well as in coniferous and mixed forests of Japan, Korea, and China.  


Actinidia arguta can form a huge tent among the crowns of trees. Its leaves are broadly elliptical or round-ovate, narrower at the ends of the shoots, dark green above, and light below. The fruits of actinidia arguta are diverse in shape (they are spherical, cylindrical), they can reach 3 cm in length. Their skin is colored dark green, and the flesh has a sweet and sour taste and a strong pineapple or apple flavor.  
Actinidia arguta: features of Actinidia

The fruits of the arguta actinidia ripen in September. (However, on some lianas, the ripened fruits remain hanging until January.) At the same time, one adult liana can produce up to 15 kg of crop! After ripening, the fruits of actinidia arguta become very soft, juicy, with a pleasant sweet and sour taste and a strong aroma. A great advantage of them is the fact that they keep up in a short time and do not crumble for a long time. 
There are several varieties of arguta actinidia: "primorskaya", "burenka", "giantess", "goliath", "taiga emerald", "balsam", "daughter of zei", "September". With a large harvest of berries of these varieties, you can cook jam, prepare compote or squeeze juice, which will then be stored in the refrigerator and used in the winter to relieve angina attacks. Actinidia arguta berries are also suitable for wine fermentation and drying.