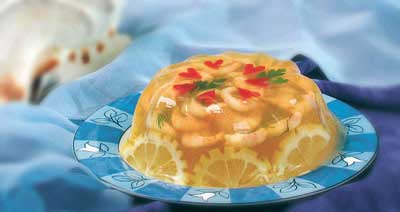 Ingredients
→ SALT
→ 500 G SHRIMP
→ 50 G OF CELERY ROOT (OR ABOUT 2.5 TEASPOONS OF DRY CELERY ROOT)
→ 1.25 TEASPOONS GELATIN
→ 1 CUP FISH BROTH
→ 1 HARD-BOILED EGG
→ 1 CARROT
→ 1 ONION
→ 1 PARSLEY ROOT (OR 3\4 TEASPOONS DRY PARSLEY ROOT))
→ 0.5 LEMON

Boil the shrimps in salted water (boiled-frozen ones cook for 3-5 minutes after boiling, and raw ones-10-12 minutes). 
Cook a strong fish broth from 1 cup of water with the addition of spices, parsley root, celery root, carrots, onions (see the recipe "Fish broth"). 
Fill the hot broth with gelatin diluted in water (1.25 teaspoons of gelatin soaked in 0.5 cups of cold boiled water) and strain. 
Peel the shrimps from the shell, cut them into slices, put them in a salad bowl, garnish with slices of egg and lemon, and then pour over the warm jelly, i.e. fish broth.
After a few hours in the refrigerator, the aspic shrimps are ready!