Articles
Beluga caviar: properties of Beluga caviar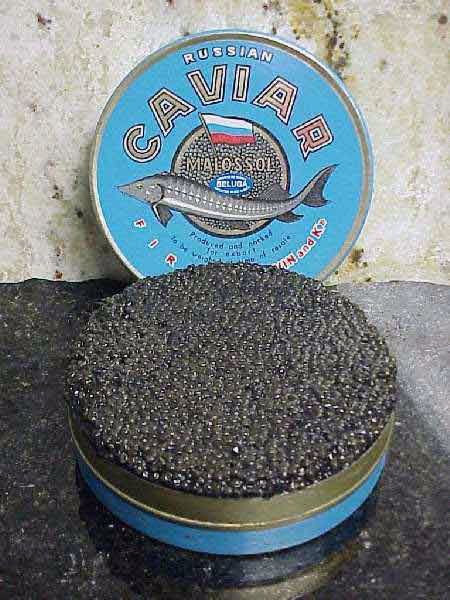 Of all sturgeon fish, Beluga provides the most valuable and expensive type of delicious caviar. This caviar is grainy, large (the eggs reach 2.5 mm in diameter), light gray or black, with a delicate nutty taste and almost no fishy smell.
The most expensive variety of Beluga caviar -"Golden caviar" ("Golden caviar") is supplied to the market by Iran. Here we are talking about albino Beluga caviar that has lived for at least 95-100 years. Such caviar is Packed in hundred-gram jars made of 995th-grade gold, and then sold for about $ 2500 per unit.
Beluga caviar: properties of Beluga caviar

Ordinary Beluga caviar is packaged by Russian manufacturers in glass jars with a blue lid. As a rule, each jar weighs 113 grams. However, it is very difficult to consume more than 100 grams of Beluga caviar in a few days, because it is high in calories (193-235 calories) and nutritious.
Indeed, Beluga caviar is much fatter than Beluga meat and contains much more protein. For example, in spring Beluga caviar contains 15% fat, and in autumn-17.7%!
As for the rules for serving Beluga caviar to the table, there are several rules. First, Beluga caviar does not like the neighborhood with other products - this makes it quickly absorb foreign odors! Therefore, it is recommended to serve it in special caviar dishes placed on ice. Secondly, it is better to eat caviar with silver spoons, since the taste of caviar changes when it comes into contact with other metals. Third, you can offer white wine, Brut champagne or vodka with caviar. And as a snack, dill with parsley, hard-boiled eggs, fresh cucumbers, onions or green onions and green lettuce leaves are suitable.