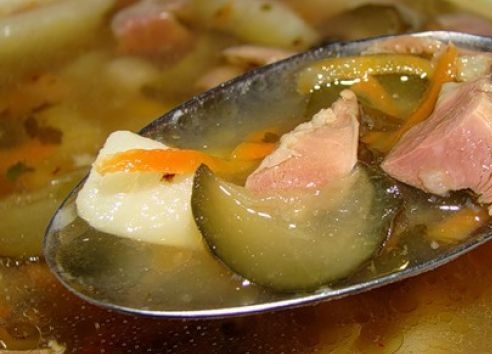 Ingredients
→ GROUND BLACK PEPPER
→ SALT
→ 500-600 G OF BELUGA
→ 2 TABLESPOONS BUTTER
→ 2 PICKLED CUCUMBERS
→ 100 G PORCINI MUSHROOMS (FRESH OR SALTED)
→ 1.5 CUPS FISH BROTH (OR WATER)
→ 1 TABLESPOON WHEAT FLOUR
→ 1 TABLESPOON CUCUMBER BRINE

Prepare and cut the beluga into portions. 
Peel the cucumbers, cut them lengthwise, remove the grains and divide each half crosswise into three parts. 
Fresh (salted) mushrooms are cleaned, washed and cut into slices. 
Place the pieces of beluga in a saucepan, place the mushrooms and cucumbers between them. All this salt and sprinkle with ground black pepper, then pour 1.5 cups of broth (or water) into a saucepan, add 1 tablespoon of cucumber brine and, covered, cook over low heat for 15-25 minutes. After that, pour the broth into another saucepan and put it on the fire. When there is 1 cup of broth left, prepare the sauce in the same way as for steamed sturgeon, but without lemon juice (see the article "Features of cooking steamed fish").