Recipes
Cabbage soup with golovizna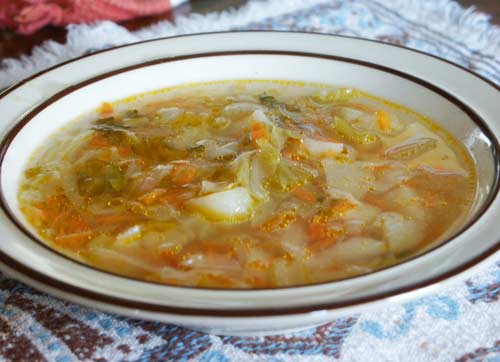 Ingredients
→ SALT
→ SOUR CREAM
→ BUTTER FOR ROASTING FLOUR
→ ONION-TURNIP
→ 500 G SAUERKRAUT
→ 3-4 BLACK PEPPER PEAS
→ 200 G OF ROOTS (PARSLEY ROOT AND CELERY ROOT
→ 2 TABLESPOONS TOMATO PASTE
→ 2 TABLESPOONS VEGETABLE OIL + VEGETABLE OIL FOR ROASTING ROOTS
→ 1 TABLESPOON WHEAT FLOUR
→ 1 KG OF STURGEON HEADS

Heads of sturgeon fish cut into pieces, wash, scald, immerse for 1-2 minutes in hot boiled water, rinse again, put in a saucepan, pour cold water and put to cook on low heat for 3-4 hours. 
Wash the chopped sauerkraut 1-2 times in cold water, squeeze it out, put it in a saucepan, add tomato paste, 1-1.5 cups of water,2 tablespoons of vegetable oil and, covered with a lid, put it to simmer for 1.5-2 hours. 
Cut the roots and onions into small cubes, lightly fry in a frying pan and transfer to a saucepan with stewed sauerkraut. 1 hour before the end of cooking, put the cabbage and roots in a saucepan. 
Before the end of cooking, add salt and pepper to the soup and pour in the flour dressing (lightly fry the wheat flour in oil, then carefully dilute with fish broth). 
Soup pour into bowls, putting each of them on a piece of Golovina. Separately, you can serve sour cream.