Recipes
Canned boiled salmon with Hollandaise sauce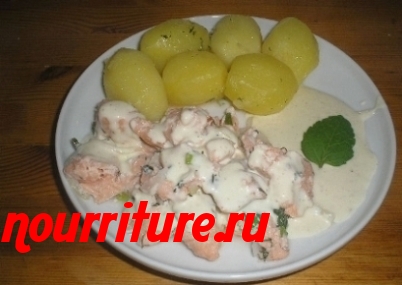 Ingredients
→ SALT
→ A FEW SPRIGS OF PARSLEY
→ THE LEAVES OF GREEN SALAD OR FRESH CUCUMBERS
→ HOLLANDAISE SAUCE
→ 800 G OF POTATOES
→ 350 G CANNED SALMON (1.5 CANS)

Cut the canned salmon into pieces and heat it together with the juice in a saucepan.

When serving, place the fish pieces on a warmed dish, garnish with boiled potatoes and garnish with sprigs of parsley.

Separately serve Dutch sauce (see "Traditional Dutch sauce (on a steam bath)" and (see "Dutch sauce with pepper"), fresh cucumbers or green lettuce leaves.