Recipes
Capelin salad with salted mushrooms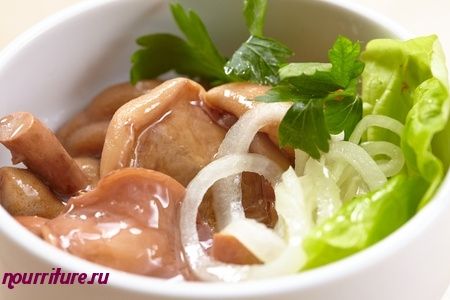 Ingredients
→ GROUND BLACK PEPPER
→ SALT
→ 5 BOILED POTATOES
→ 4 TABLESPOONS VEGETABLE OIL
→ 300 G BONELESS FILLET OF FRESH CAPELIN
→ 2 TABLESPOONS LEMON JUICE
→ 2 SPRIGS OF PARSLEY (FOR DECORATION)
→ 2 BOILED CARROTS
→ 1 CUP SALTED MUSHROOMS
→ 1 HEAD OF ONION

Cut the capelin and separate the fillet from the bones (see the material "Cutting fish"). Transfer the capelin fillet to an enameled pan, pour a small amount of water, add salt to taste and boil until tender (see the article "Features of cooking boiled fish").
Remove the finished fish from the broth, cool and cut into small pieces.
Wash the potatoes, boil "in uniform", cool, peel and cut into cubes.
Boil the washed carrots until soft, cool, peel and also cut into cubes.
Peel, wash and finely chop the onion.
Finely chop the salted mushrooms.
Mix the capelin pieces, potatoes, salted mushrooms, carrots and onions.
Prepare a salad dressing from vegetable oil, lemon juice, salt and ground black pepper. Pour the dressing over the salad. Mix all the ingredients.
Transfer the finished salad to a salad bowl and garnish with parsley sprigs before serving.