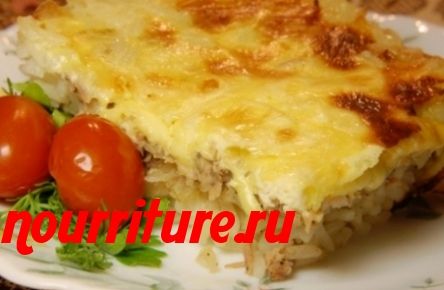 Ingredients
→ 250 G CANNED FISH (1 CAN)
→ 2 EGGS
→ 2 TABLESPOONS SOUR CREAM (15% FAT CONTENT)
→ 2 TABLESPOONS BUTTER
→ 2 TABLESPOONS BREADCRUMBS

Cook the crumbly rice (see "Japanese rice"), cool slightly, add the raw eggs and mix.

Grease the pan with butter and sprinkle with breadcrumbs (see "White breadcrumbs"), then put half of the cooled rice on it. Top with an even layer of minced fish, on it-a layer of remaining rice. Grease the surface with sour cream and bake in the oven.

Minced meat: finely chop the onion and spasserovat, mix with chopped fish and warm over low heat.