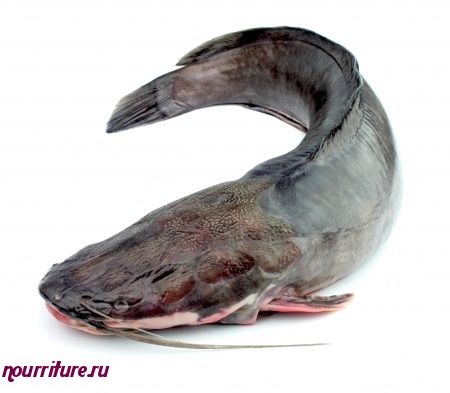 Ingredients
→ GROUND BLACK PEPPER
→ SALT
→ 750 G CATFISH OR 500 G BONELESS CATFISH FILLET
→ 500 G OF SWEET AND SOUR APPLES
→ 3 TABLESPOONS MELTED BUTTER
→ 1 TEASPOON SUGAR

Prepared and cut into portions, put the catfish fillet in a bowl (see the article "Cutting fish"), pour salt water for 3 minutes (1 tablespoon of salt per 1 cup of cold boiled water), then remove and let the water drain. 
Wash the apples, peel them, remove the core and cut them into ½ cm thick slices. Put them in a preheated frying pan, where you should first melt 1.5 tablespoons of butter. Then add salt, sugar and ½ cup of water, cover and cook the apples over low heat until they are soft. After that, put the catfish on the apples, cover again, simmer for 5 minutes, turn the catfish over, pour oil mixed with pepper, and put it for 5-10 minutes in a preheated oven to 180-200 degrees. 
When serving, place the catfish on a warmed dish and place the apples around it.