Recipes
Cod baked with onions, carrots and parsley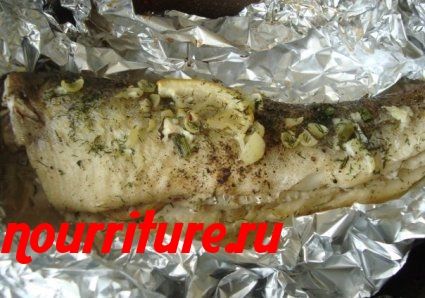 Ingredients
→ SALT
→ JUICE OF 1 LEMON
→ GROUND BLACK PEPPER
→ 800G COD
→ 50 G THINLY SLICED LARD
→ 50 G PARSLEY
→ 2 TABLESPOONS BUTTER
→ 100 G ONION
→ 100 G CARROTS
→ 100 G LEEKS
→ 1 TEASPOON MILD MUSTARD

Pour lemon juice over the fish, rub with salt and pepper, and grease the inside with mustard (see the article "Cutting fish").

Chop the onion, cut the carrots into strips, and chop the parsley coarsely.

Put the fish on a piece of food foil, pre-greased with lard. Half of the vegetables are put inside the fish, and the other half is put around. Put pieces of lard on top of the fish, and butter on the vegetables.

Wrap the fish in foil and cook for 40 minutes in an oven preheated to 220 degrees.