Recipes
Cod, barbel or flounder with mashed potatoes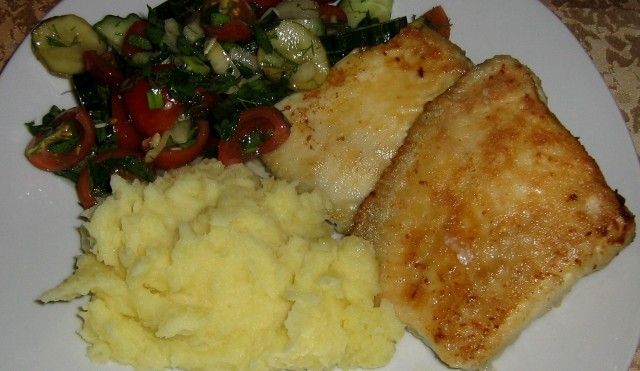 Ingredients
→ SALT
→ 750 G COD, BARBEL (MYRON) OR FLOUNDER
→ 700 G OF POTATOES
→ 30 G PARSLEY
→ 3 TABLESPOONS MELTED BUTTER
→ 20 G CELERY ROOT OR 1 TEASPOON DRY CELERY ROOT
→ 2 BLACK PEPPER PEAS
→ 1-2 BAY LEAVES
→ 1/4 TEASPOON DRY PARSLEY ROOT
→ 1/2 CUP BOILED MILK
→ 1 CARROT
→ 1 ONION

Prepared and chopped cod (barbel (myron), flounder or other fish) cook in water with onions, roots, bay leaf, pepper, salt (see the article "Cutting fish" and "Features of cooking boiled fish"). Meanwhile, in a separate saucepan, put the peeled potatoes to cook. When the fish is cooked, remove it from the broth, put it in a frying pan and put it in a preheated oven for 3-5 minutes to 180-200 degrees. When the potatoes are cooked, drain the water and, covered with a lid, put the pan with potatoes for 5-7 minutes in the oven for drying. Next, pass the potatoes through a meat grinder, put them in a saucepan, add 2 tablespoons of melted butter, boiled milk, salt and stir to avoid lumps.

Place the fish on a greased pan or baking sheet, cover with an even layer of mashed potatoes, flatten with a knife, sprinkle with melted butter and bake in the oven at 180-200 degrees until golden brown.

It is recommended to serve fresh or pickled cucumbers, as well as vegetable salad.