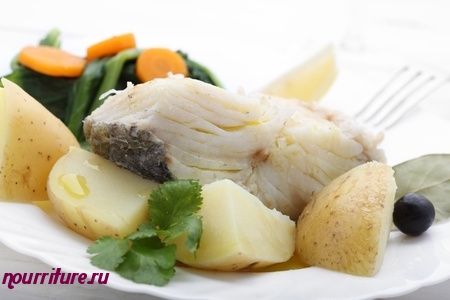 Ingredients
→ A FEW SPRIGS OF PARSLEY
→ 50 G GREEN ONIONS
→ 4-5 BOILED POTATOES
→ 250 G BONELESS COD FILLET
→ 2 TEASPOON OF 5% VINEGAR
→ 2 FRESH CUCUMBERS + 1 CUCUMBER FOR DECORATION
→ 100 G GRATED HORSERADISH (CAN BE READY)
→ 0.5 CUPS OF MAYONNAISE

Remove the cooked cold cod from the bones and cut into pieces (see the articles "Cutting fish" and "Features of cooking boiled fish"). 
Peeled boiled potatoes and cucumbers cut into slices. In a bowl, put grated (or ready) horseradish, add mayonnaise, salt, vinegar, mix with chopped cod, potatoes, cucumbers and transfer to a salad bowl. 
Garnish the salad with cucumber slices, finely chopped green onions, grated horseradish and parsley sprigs.