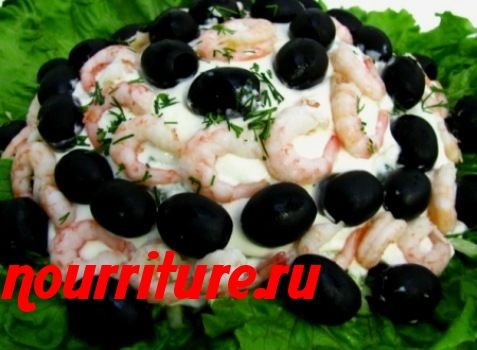 Ingredients
→ SALT
→ GROUND BLACK PEPPER
→ A FEW OLIVES
→ 50G BOILED SHRIMP + SOME SHRIMP FOR DECORATION
→ 30 G PARSLEY
→ 3 TABLESPOONS PICKLED MUSHROOMS
→ 3 TABLESPOONS MAYONNAISE
→ 1-2 FRESH TOMATOES
→ 1-2 FRESH CUCUMBERS
→ 100 G BOILED TREPANGS
→ 100 G BOILED SQUID
→ 100 G BOILED OR CANNED SCALLOP

Boiled squid (cooked after boiling for 3 minutes), scallop and trepangs cut into strips.

(Sea cucumbers can be salted, dried, and canned. Before cooking, dried trepangs are poured with cold water and soaked in it for 25-30 hours. In this case, the water must be changed 2-3 times. Then the trepangs are washed, coal dust is removed from the surface. In washed trepangs, the abdominal cavity is cut and the intestines are removed. After that, they are poured with cold water, brought to a boil and boiled at a low boil for 3-4 hours until ready. Ready-made trepangs are left in the broth in which they were cooked.

Scallops can also be dried, canned, or raw. The freshly frozen scallop muscle is thawed in cold water or in the air at room temperature. Thawed muscle is washed, and then boiled. Scallop meat is cooked, as well as shrimp meat - in salted water with roots and spices, but the cooking time of scallop after boiling is 15-20 minutes. The finished scallop is left in the broth before serving.)

Cut fresh cucumbers and pickled mushrooms into cubes. Mix it all together. Season with pepper and mayonnaise.

Put the mass in a slide in a salad bowl, decorate with slices of fresh tomatoes, olives, shrimps (boiled ice cream is cooked 3-5 minutes after boiling, and raw-10-12 minutes), and sprinkle with chopped herbs.