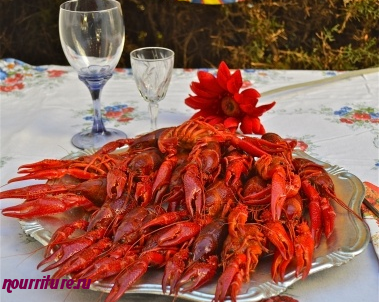 Ingredients
→ GROUND BLACK PEPPER
→ A FEW SPRIGS OF PARSLEY (FOR DECORATION)
→ 2 TABLESPOONS BUTTER
→ 10 CRAYFISH
→ 1 TEASPOON WHEAT FLOUR
→ 1 CUP DRY WHITE WINE
→ 2 BAY LEAVES
→ ¼ TSP GROUND CUMIN

Put the washed crayfish in a preheated saucepan, where the butter is pre-melted, and fry them until pink, turning them over with a fork. Sprinkle the crayfish with salt, pepper, ground cumin, put 2 bay leaves, pour wine and cover the pan, cook for another 10 minutes. When the crayfish are ready, they should be taken out, put in a bowl or on a dish, and covered with a lid. 
From the broth obtained when cooking crayfish, it is recommended to prepare a sauce. To do this, strain the broth through a sieve into a saucepan, put it on the fire, add the flour mixed with 1 teaspoon of butter. Boil for 1-2 minutes and, removing from the heat, add more oil, stirring with a spoon, until it dissolves in the sauce. 
When serving crayfish on the table, decorate the dish with sprigs of parsley. Serve the sauce separately.