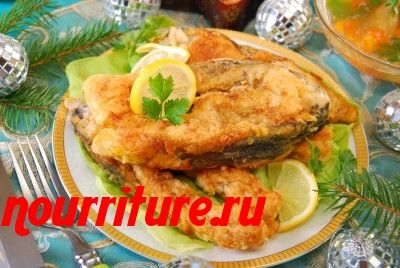 Ingredients
→ GROUND BLACK PEPPER
→ SALT
→ GROUND PAPRIKA
→ LOVAGE
→ 600 G BONELESS CARP FILLET
→ 500 G VEGETABLE OIL
→ 4 EGGS
→ 200 G WHEAT FLOUR
→ 20 G GARLIC

Carp fillet cut into oblong slices – the same way as cut into strips potatoes. 
Prepare a mixture of eggs, crushed garlic, lovage, salt and ground black pepper. In this dough, put the carp for at least 2 hours. After that, remove the carp from the dough and let it drain.
Add paprika to the flour, and then roll in the carp flour and fry it in oil, preheated in a frying pan, until golden brown. 
As a side dish for this dish, a salad of white cabbage or green leaf salad is suitable.