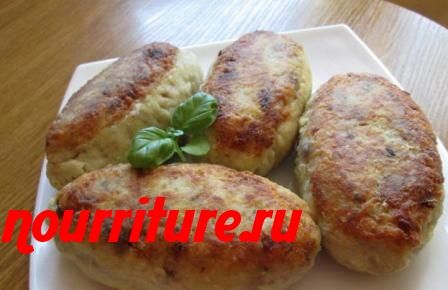 Ingredients
→ VEGETABLE OIL
→ 800 G OF POTATOES
→ 250-300 G OF SALTED FISH
→ 1-2 TABLESPOONS BREADCRUMBS
→ 1 EGG
→ 1 ONION

Clean the salted fish, cut it into pieces (see "Cutting fish") and soak it in cold boiled water for 5-6 hours. In this case, the water should be poured so much that it covers the fish, and leave it for 30-40 minutes. After that, the fish should be washed and re-immersed in water for 5 hours. After every hour, the water must be changed.

Cook the soaked fish, then select all the large bones from it. Pass the pulp through a meat grinder, mix with mashed boiled potatoes, add raw egg and finely chopped onion, fried in oil. Mix all the ingredients well and pass them through a meat grinder again.

From the resulting minced meat, cut the cutlets, roll them in breadcrumbs (see "White breadcrumbs") and fry in oil.

You can serve the cutlets with fried or boiled potatoes, porridge, pasta, stewed cabbage, fresh cucumbers and tomatoes, as well as with vinaigrette and green salad.

The broth obtained by cooking fish can be used for fish soup.