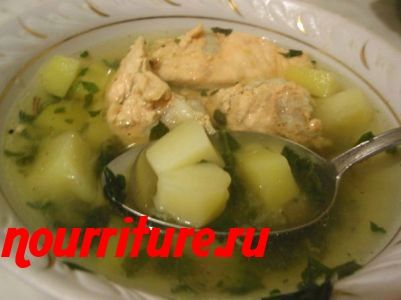 Ingredients
→ SALT
→ FISH
→ A FEW PEAS OF BLACK PEPPER
→ CARROTS
→ ONION
→ BAY LEAF
→ POTATO
→ DILL AND PARSLEY GREENS
→ A BRANCH OF CELERY
→ BRANCH OF PARSLEY

Fish soup can be prepared from any fresh fish.

In hot water, put a whole onion, chopped carrots, a sprig of parsley and a sprig of celery, salt, bay leaf, a few peas of black pepper and cook for 10-15 minutes (see "Features of cooking filling soups on fish broth"). Then put the pieces of peeled and washed fish and continue to cook at a low boil for 15-20 minutes.

When serving fish soup, remove the bay leaf, parsley and celery sprigs, and onion.

Separately apply the finely chopped greens of dill or parsley.

In the ear at the very beginning of cooking, you can add raw diced potatoes.