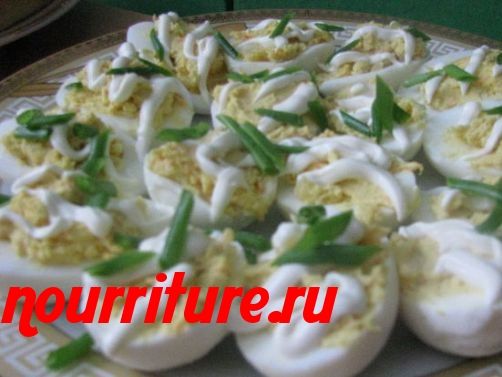 Ingredients
→ GROUND BLACK PEPPER
→ A FEW GREEN LETTUCE LEAVES
→ DILL GREENS
→ 6 HARD-BOILED EGGS
→ 2 TABLESPOONS FINELY CHOPPED GREEN ONION
→ 120 G BUTTER
→ 100 G OF MAYONNAISE
→ 0.5 SALTED HERRING

Peel the eggs, cut them lengthwise into halves and remove the yolks.

Clean the herring from the skin and bones (see "Cutting fish"), pass through a meat grinder, mix with softened butter and crushed yolks. Then add the green onion, pepper and mix everything together.

Fill the egg whites with the resulting mass, place on a flat dish decorated with lettuce leaves. Top the eggs with mayonnaise and dill sprigs.