Recipes
Fat appetizer of stewed lamprey (for sandwiches)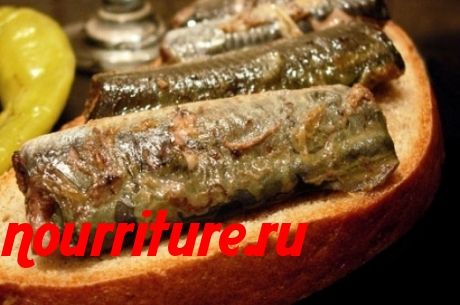 Ingredients
→ SALT
→ ODORLESS VEGETABLE OIL
→ 4-5 PEAS OF BLACK PEPPER
→ 4 BAY LEAVES
→ 2 LARGE ONIONS
→ 1 KG LAMPREY
→ 0.5 LEMON

Raw lampreys are cleaned of mucus, the body of each lamprey is cut into 4 parts and put them on the bottom of the pan in one layer. On top of the lamprey, sprinkle a little salt, add 2 bay leaves, 2 peas of black pepper and 6-7 rings of onions.

Then on a layer of onions, put the second layer of lampreys, again add a little salt and pepper, add to them a bay leaf, a layer of onions, cut into rings, and 2-3 circles of lemon, previously peeled from the zest.

Then pour the odorless vegetable oil (sunflower or olive) into the pan. The oil needs to be poured so much that it barely reaches the second (upper) layer of lampreys. Cover the pan with a lid and put it on a high heat. As soon as the oil boils, make the fire low and simmer the lampreys under the lid for another 2 hours.

Then remove the lampreys from the pan and let them cool. Prepared in this way, lampreys can be used as a filler for sandwiches made from toasted rye bread.