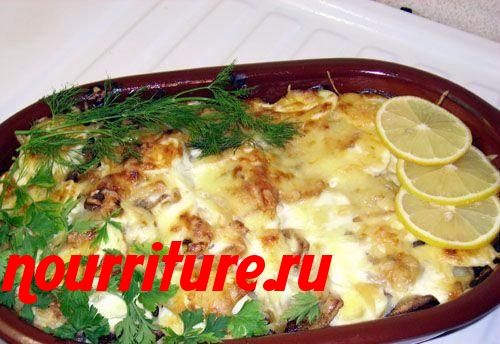 Ingredients
→ GROUND BLACK PEPPER
→ SALT
→ GREENERY
→ 600 G BONELESS FISH FILLET
→ 3-4 POTATOES
→ 300 G SOUR CREAM (20% FAT CONTENT)
→ 2 HARD-BOILED EGGS
→ 1.5 HEADS OF ONIONS

Roll the fish fillet in flour mixed with salt and fry on both sides (see "Cutting fish and "Flour breading").

Potatoes cut into circles, fry. Onion cut into circles, roll in flour, fry on both sides. Hard-boiled eggs, peel, cut into circles.

On a baking sheet, put a layer of potatoes, on it-a layer of fish fillet, on the fish "scales" put alternately a layer of potatoes, a layer of onions and eggs. Lightly season with salt and pepper, pour in sour cream and keep in the oven until golden brown.

When serving, sprinkle with herbs.