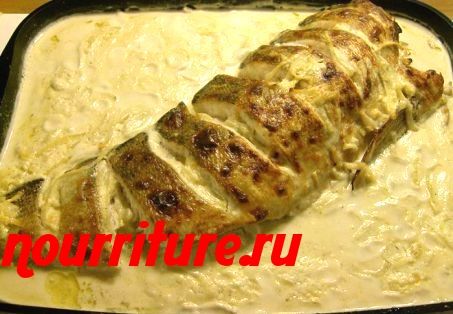 Ingredients
→ GROUND BLACK PEPPER
→ SALT
→ 80 G BUTTER (FOR FRYING POTATOES)
→ 80 G VEGETABLE OIL
→ 40 G SOUR CREAM (10% FAT CONTENT)
→ 25 G WHEAT FLOUR
→ 20 G BREADCRUMBS
→ 1 KG FISH (PIKE PERCH, COD, POLLOCK, OF LAMPANG, LOBAN)
→ 1 KG OF POTATOES

Clean the fish, cut it, remove the entrails, leave the head (see "Cutting fish").

After gutting, wash the fish thoroughly in cold water, dry, rub with salt, sprinkle with ground black pepper, pan in flour (see "Flour breading"), fry on both sides in vegetable oil until golden brown.

Then grease the pan with vegetable oil, put the fish, and around-circles of fried potatoes, pour sour cream, sprinkle with breadcrumbs (see "White breadcrumbs"), sprinkle with melted butter, and then bake in the oven at a temperature of 180-200 degrees for about 12-14 minutes.