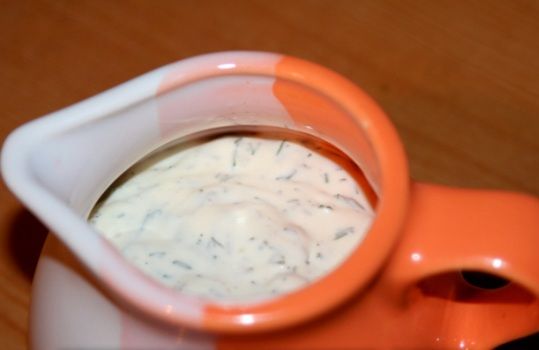 Ingredients
→ SALT
→ GROUND BLACK PEPPER
→ 500 G SOUR CREAM (15% FAT CONTENT)
→ 5 BOILED POTATOES
→ 2 TABLESPOONS BUTTER
→ 2 TABLESPOONS WHEAT FLOUR
→ 1 TEASPOON SUGAR
→ 1 RAW EGG YOLK
→ 1 TABLESPOON CHOPPED HERBS
→ 1 TABLESPOON 3% VINEGAR
→ 1 KG OF FISH
→ 0.5 TABLESPOONS HORSERADISH (OR READY-MADE HORSERADISH WITH VINEGAR AND BEET JUICE)

Clean the fish, cut into pieces, pour water and cook on low heat for 20 minutes (see the article "Cutting fish" and the recipe "Fish broth"). Strain the broth through a sieve.

Sauce: Fry the flour in oil until golden brown, pour two glasses of strained fish broth, bring to a boil. Then add sour cream, herbs, grated horseradish, pepper, sugar, salt and 3% vinegar. Remove from the heat, and add the raw egg yolk to the dish, stirring constantly.

The sauce should be thick. They pour the fish and serve it to the table with boiled potatoes.