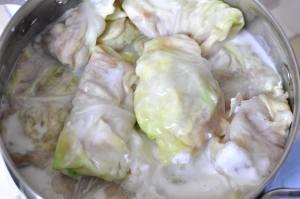 Ingredients
→ SALT
→ GROUND BLACK PEPPER
→ WATER OR MILK
→ 700 G BONELESS FISH FILLET (WALLEYE, PERCH, COD OR PIKE)
→ 700 G WHITE CABBAGE
→ 50 G WHITE BREAD (WITHOUT CRUST)
→ 2 CUPS SOUR CREAM (15 % FAT CONTENT)
→ 1 TABLESPOON BUTTER
→ 1 TABLESPOON DILL OR PARSLEY
→ 1 ONION

Wash the fillet (see the article "Cutting fish"), cut into small pieces, pass through a meat grinder, add slightly squeezed white bread soaked in water or milk, salt, pepper, fried onions and pass through the meat grinder again.

The cabbage leaves are scalded and cleaned, as for cabbage rolls, then put the prepared minced fish on them, wrap them in envelopes, put them in a saucepan, pour sour cream and put them in an oven heated to 180 degrees.

When serving, sprinkle the dish with herbs.