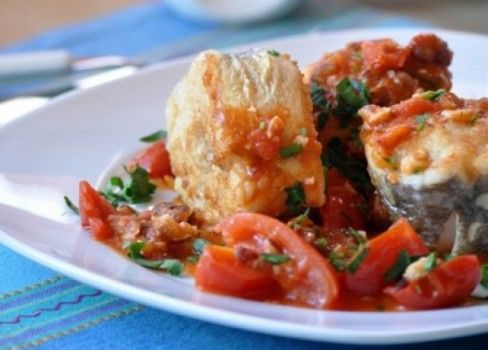 Ingredients
→ SALT
→ GROUND BLACK PEPPER
→ POTATO
→ 400-600 G FISH (LAMPANG, PIKE-PERCH, COD, LOBAN POLLOCK)
→ 30 G PARSLEY OR GREEN ONION
→ 1.5-2 TABLESPOONS TOMATO PASTE OR FRESH TOMATOES
→ 1 CUP FISH BROTH OR WATER
→ 1 TABLESPOON VEGETABLE OIL
→ 1 TABLESPOON WHEAT FLOUR
→ 1 BAY LEAF
→ 1 SPRIG OF PARSLEY OR DILL

Fish to fillet, cut into serving pieces (see "Cutting fish"), salt, sprinkle with ground black pepper, put in a saucepan, add tomato paste or sliced fresh tomatoes, 1 Bay leaf and a sprig of parsley, pour a glass fish stock (see recipe "Fish broth"), brewed from the bones and the heads of fish, or a glass of water. Cover the dishes with a lid and simmer at a low boil for 15-20 minutes.

Put the finished fish on a platter, cover with boiled potatoes, and add flour fried in vegetable oil to the broth obtained when cooking the fish, boil and pour over the fish, sprinkle with finely chopped parsley or green onions.

In the same way, you can cook fish with vegetables. To do this, take a little carrot (1 pc.), 20 g of parsley and 0.5 onions, chop everything finely and fry in oil. Then cut the pickles into slices (1-2 pieces), put all the ingredients in a saucepan together with the pieces of fish, pour in the fish broth or water and simmer until the vegetables and fish are ready.