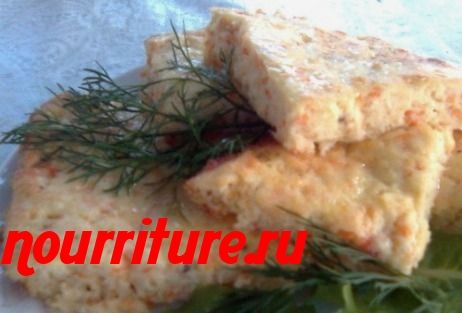 Ingredients
→ SALT
→ 500G BONELESS COD FILLET
→ 300 G OF UNLEAVENED COTTAGE CHEESE (9% FAT CONTENT)
→ 3 TABLESPOONS OF BUTTER FOR WATERING + 1 TABLESPOON OF MELTED BUTTER FOR GREASING THE MOLD
→ 3 SMALL CARROTS (250 G)
→ 2 TABLESPOONS VEGETABLE OIL
→ 1.5 ONIONS

Pass the cod fillet through a meat grinder (see "Cutting fish"), add the mashed cottage cheese, finely chopped and lightly toasted onions, pureed and mashed carrots and mix everything well.

The resulting mass is placed in a greased form with butter. The fish is also sprinkled with melted butter and placed in the oven, preheated to 200 degrees.

Cut the finished cod casserole into small squares and serve with the preheated butter.