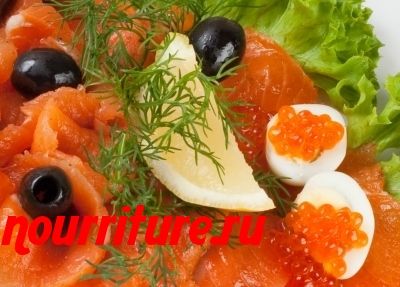 Ingredients
→ 75 G RED CAVIAR, SALTED SALMON OR HERRING
→ 5 HARD-BOILED EGGS
→ 30 G GREEN SALAD
→ 30 G PARSLEY
→ 250 G OF BOILED FISH
→ 2 FRESH TOMATOES
→ 125 G SPRAT IN OIL
→ 100 G BUTTER
→ 3 SMALL FRESH CUCUMBERS

Cut the boiled fish into slices and place it in a fan on one side of the dish (see "Features of cooking boiled fish"), then lay out the sprats, halves of egg whites, each of which contains red caviar, or salted salmon, or herring.

Cut 70 g of butter into cubes and place next to the stuffed eggs, soften the rest of the butter, put it in a cone-shaped cellophane bag and apply them to the mesh on the stuffed eggs.

On the opposite side of the dish, place a side dish of vegetables (sliced cucumbers and tomatoes). Garnish with lettuce and parsley.