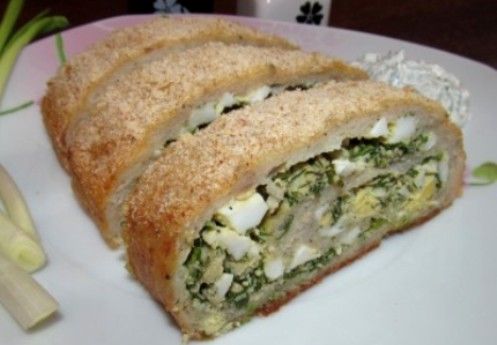 Ingredients
→ 500 G BONELESS FISH FILLET
→ 4 TABLESPOONS MELTED BUTTER
→ 2 TABLESPOONS TOMATO PASTE
→ 100 G OF WHITE BREAD
→ 1 EGG
→ 1 CUP SOUR CREAM (15% FAT CONTENT)
→ 1 ONION
→ ¾ CUP BOILED RICE OR BUCKWHEAT
→ ½ CUP MILK

Prepare minced meat, as for fish cutlets (see "Cutting fish" and "Fish mass (minced meat) for cutlets").

Put a layer of minced meat on a wet cloth, the thickness of which is 2 cm, and the length and width-20 cm. In the middle of this layer, put boiled rice (see "Japanese rice") or buckwheat porridge mixed with toasted finely chopped onions and raw egg. Lift the edges of the napkin and connect the ends of the fish mass. Transfer the roll along with a napkin to a baking sheet or frying pan and tip the seam down. Top the roll with sour cream, sprinkle with melted butter, make punctures at the ends and put in a preheated oven to 180-200 degrees. After 15-20 minutes, when the roll is browned, pour it with sour cream mixed with tomato paste, and put it back in the oven for 5-10 minutes.

When serving, cut the roll crosswise into pieces, put it on a hot dish and pour over the sauce obtained during baking.

In the same way, you can prepare a roll with pasta, noodles, millet porridge.