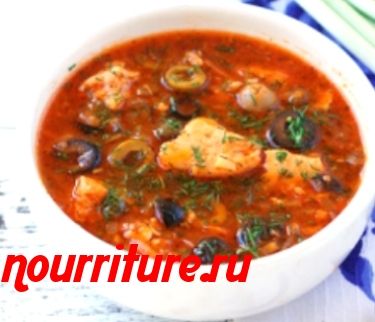 Ingredients
→ SALT
→ 500 G OF FISH (FOR BROTH)
→ 4 PICKLED CUCUMBERS
→ 30-40 G OF GREENS OF PARSLEY OR FENNEL
→ 3 TABLESPOONS VEGETABLE OIL
→ 200 G FILLET OF BELUGA, STERLET, STURGEON OR STURGEON
→ 2 TABLESPOONS TOMATO PASTE OR 3 TOMATOES
→ 2 ONIONS
→ 1-2 BAY LEAVES
→ 1/4 OF A LEMON
→ 1 TABLESPOON OLIVES
→ 1 TABLESPOON OLIVES
→ 1 TABLESPOON CAPERS

Peel the cucumbers, cut them into 2 pieces and cut them into slices.

Fish fillet cut into pieces of 50 g (see "Cutting fish"), scald in boiling water, and then rinse in cold water.

In a saucepan with chopped onions, put fish, cucumber slices, tomatoes without skin (or tomato paste), capers, olives, salt, bay leaf, all this pour hot broth and cook for 10-15 minutes.

Before serving, put olives, lemon slices (without peel) and sprinkle with finely chopped parsley or dill in a hodgepodge. In addition, you can add boiled fish cartilage to the hodgepodge.