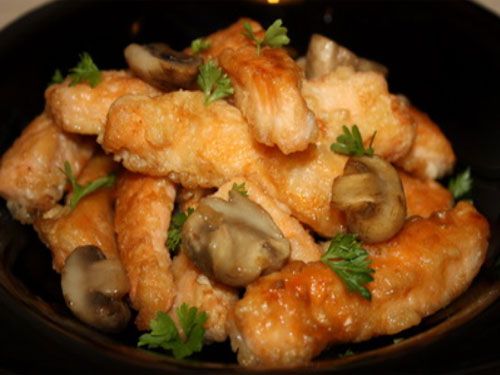 Ingredients
→ SALT
→ GROUND BLACK PEPPER
→ 500 G HAKE FILLET
→ 2 TABLESPOONS BUTTER
→ 150 G BOILED MUSHROOMS
→ 1.5 HEADS OF ONIONS
→ 1 TABLESPOON WHEAT FLOUR
→ 0.5 L SOUR CREAM AND TOMATO SAUCE (2 CUPS SOUR CREAM (15% FAT CONTENT) + 3 TABLESPOONS TOMATO PASTE)

Cut the hake fillet into large strips, sprinkle with salt, pepper, flour and fry in oil. Cut the onion into slices and pass it through. Cut the boiled mushrooms into slices.

Put all the ingredients in a deep frying pan, pour the sauce (sour cream mixed with tomato paste) and simmer for 5 minutes.

Serve the dish with fried potatoes.