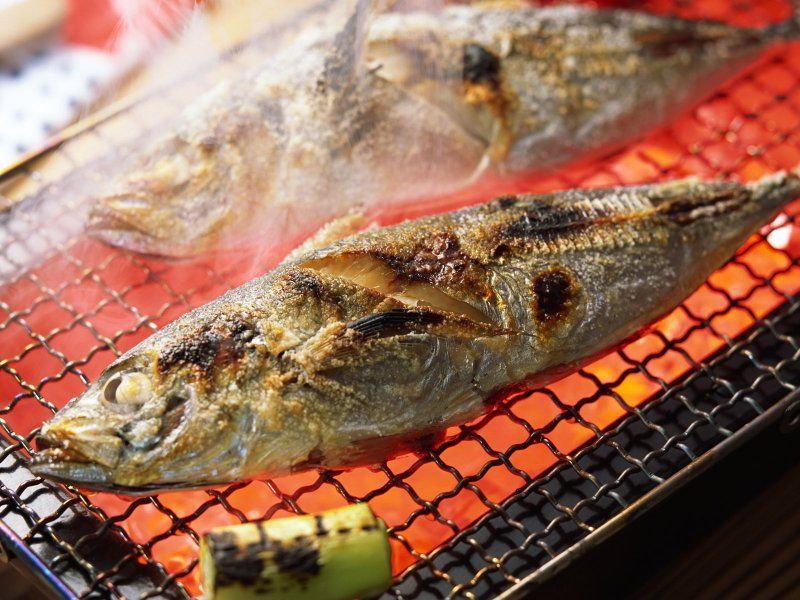 Ingredients
→ LARD (FOR GREASING THE GRATE)
→ GROUND BLACK PEPPER
→ READY-MADE TOMATO SAUCE FOR FISH OR MAYONNAISE WITH GHERKINS
→ SALT
→ BUTTER
→ WHITEFISH, FRESH HERRING, NELMA, SALMON
→ BOILED, FRENCH FRIES OR FRIED POTATOES
→ PARSLEY GREENS
→ 2 TABLESPOONS VEGETABLE OIL
→ 2 TABLESPOONS LEMON JUICE

From large pieces of butchered whitefish, fresh herring, nelma, fresh salmon with skin without bones, cut into portions, dry with a towel and marinate in the same way as for a dish of fish in the dough (see the recipe "Marinated fish in the dough").
The marinade can be made from lemon juice (2 tablespoons), 2 tablespoons of vegetable oil, a pinch of ground black pepper and salt (to taste). 
Then cut the skin in two or three places and, without breading, fry the fish over burning coals. To do this, a metal grate is placed over the red-hot charcoal on the protrusions of the barbecue sword, which is preheated and lubricated with a ham. 
After that, the prepared semi-finished fish is fried on both sides until ready. On the surface of the fried pieces of fish, ruddy stripes from the hot grill should appear. 
Before serving, the fish is placed on a warmed dish, next to boiled potatoes, French fries or simply fried, as well as a slice of lemon. 
On top of the fish, you can additionally pour melted butter and decorate with sprigs of parsley. Separately, it is recommended to serve hot tomato sauce or cold mayonnaise with gherkins to the grilled fish in the sauce pan.