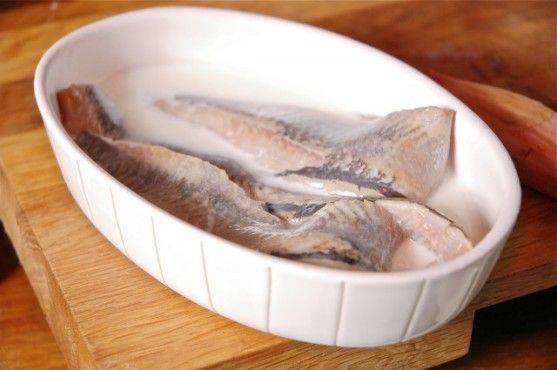 Ingredients
→ GROUND BLACK PEPPER
→ 4 TEASPOONS SUGAR
→ 4 TEASPOONS GELATIN
→ 2 SALTED HERRING
→ 1 TEASPOON SALT
→ 1 TEASPOON MUSTARD
→ 1 CUP OF ODORLESS VEGETABLE OIL + 1 TABLESPOON OF ODORLESS VEGETABLE OIL (FOR FRYING)
→ 1 CUP BOILED COLD WATER
→ 1 CUP OF 3% VINEGAR
→ 1 TABLESPOON WHEAT FLOUR
→ 1 HARD-BOILED EGG
→ 1 ONION

Soak the herring in milk for 6-8 hours (see "Processing salted herring"), prepare a boneless fillet from it (see "Cutting fish") and cut into thin strips. Next, sprinkle the herring with flour and fry in oil.

Mix the fried herring with the chopped egg and fried onion, and then cool. Put the prepared dish in a salad bowl or form, pour mustard jelly and put it in the refrigerator for a day.

Mustard jelly: soak 4 teaspoons of gelatin in a glass of cold boiled water, then heat, without bringing to a boil, and strain through cheesecloth. Add vinegar, a glass of vegetable oil, mustard, salt, sugar and a pinch of ground black pepper. Pour warm jelly over the herring.