Recipes
Herring in sour cream with apple and onion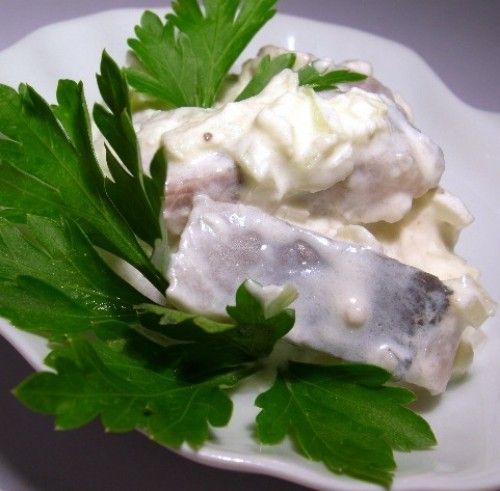 Ingredients
→ SALT
→ SUGAR
→ 3% VINEGAR TO TASTE
→ 200 G SALTED HERRING
→ 2 TEASPOONS CHOPPED PARSLEY
→ 2 CUPS MILK
→ 2 SMALL ONIONS
→ 1 CUP SOUR CREAM (15% FAT CONTENT)
→ 1 SWEET AND SOUR APPLE

Cleaned boneless herring fillets pour the milk for 3-4 hours. Then clean the stuck milk with a knife. 
Dry the herring, connect both its halves and cut into thin strips across. 
Chop the onion, grate the apple on a coarse grater. Then season the crushed apple and onion with sour cream, add vinegar, sugar and salt to taste. Mix the mass well and pour it over the herring, previously put in a deep salad bowl. 
Sprinkle the finished dish with chopped parsley.