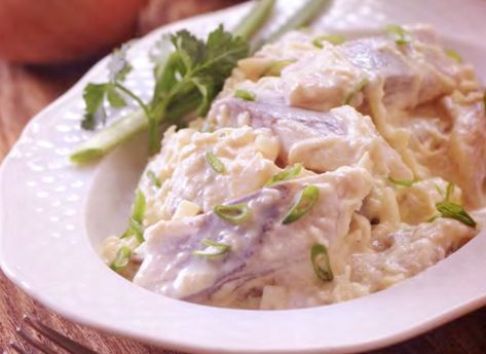 Ingredients
→ SALT
→ 30 G PARSLEY
→ 3% VINEGAR
→ 200 G OF LIGHTLY SALTED HERRING
→ 1-2 TABLESPOONS SOUR CREAM (15% FAT CONTENT)
→ 1 SWEET AND SOUR APPLE
→ 1 HEAD OF ONION
→ 0.5 TSP SUGAR

Cut the soaked herring into boneless fillets and cut into small pieces (see "Cutting fish" and "Processing salted herring"). Next, put the herring in a salad bowl or in a herring bowl.

Then grate the apple on a large grater, add finely chopped onion, mix with sour cream, season with salt, vinegar and sugar.

Put the herring in the resulting sauce, sprinkle the dish with finely chopped parsley.