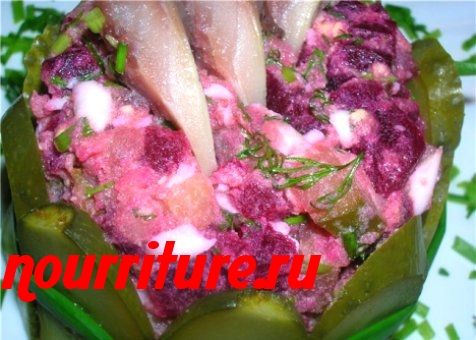 Ingredients
→ SALT
→ 30-40 G OF GREENS OF PARSLEY OR FENNEL
→ 3 TABLESPOONS VEGETABLE OIL
→ 3 BOILED POTATOES
→ 2 TABLESPOONS 3% VINEGAR
→ 1-2 HARD-BOILED EGGS
→ 1 SWEET AND SOUR APPLE
→ 1 TEASPOON MUSTARD
→ 1 PICKLE
→ 1 SALTED HERRING
→ 1 ONION
→ 1 BOILED BEETROOT

Boneless herring fillet (see "Cutting fish") and vegetables cut into small cubes, and apples-thin slices.

Prepare the sauce: rub the boiled egg yolk (yolks) with salt, mustard and oil, and the oil should be added in small portions , so that the sauce turns out thick.

Before serving, mix the chopped products with the sauce and finely chopped parsley or dill.

Transfer the salad to a salad bowl and garnish with slices of boiled beetroot and herring, as well as egg whites.