Recipes
Herring salad with egg and green peas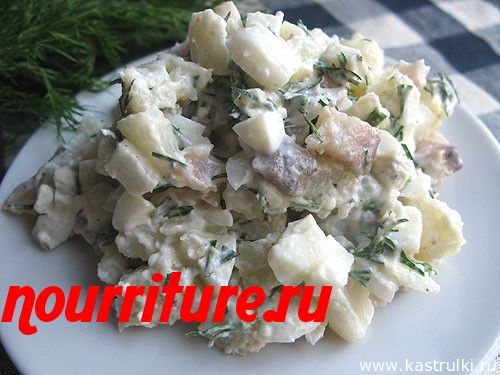 Ingredients
→ JUICE OF ONE LEMON
→ A FEW SPRIGS OF PARSLEY FOR DECORATION
→ 2/3 CUP CANNED GREEN PEAS
→ 2 HARD-BOILED EGGS
→ 2 BOILED POTATOES
→ 1 SALTED HERRING
→ ¼ TEASPOON GROUND BLACK PEPPER
→ 0.5 CUPS OF MAYONNAISE

Boneless herring fillet (see the article "Cutting fish") pour lemon juice and let stand for 40-60 minutes. Then cut the fillet into small cubes.

Finely chop the eggs. Cut the potatoes into small lozenges. Mix the herring fillet, eggs, potatoes and canned green peas in a salad bowl. Season the resulting mixture with mayonnaise and ground black pepper.

Garnish the finished salad with sprigs of parsley.