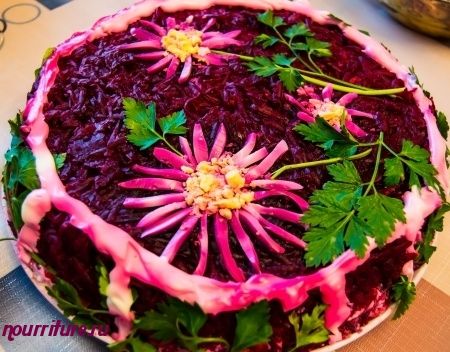 Ingredients
→ SALT TO TASTE
→ 30 G PARSLEY
→ 200 G OF MAYONNAISE
→ 2 BOILED BEETS
→ 1-2 APPLES (PREFERABLY ANTONOVKA)
→ 1 SALTED HERRING
→ 1 BOILED CARROT

If the herring is very salty, then first it is soaked for 1-2 hours in tea or milk. Next, the herring is gutted, cleaned of bones and skin, cut into small oblong slices. 
Beets and carrots are boiled, peeled, and then grated on a coarse grater and lightly salted. 
Apples are washed and also rubbed. 
Half of the prepared slices of herring are put in a deep plate, half of the grated beetroot on the herring, half of the carrots on the beets, and half of the apples on top. Pour all this mayonnaise. On top of the mayonnaise, put the herring again, and on it in the same order vegetables, apples and mayonnaise again. 
On top of the dish is decorated with sprigs of parsley.