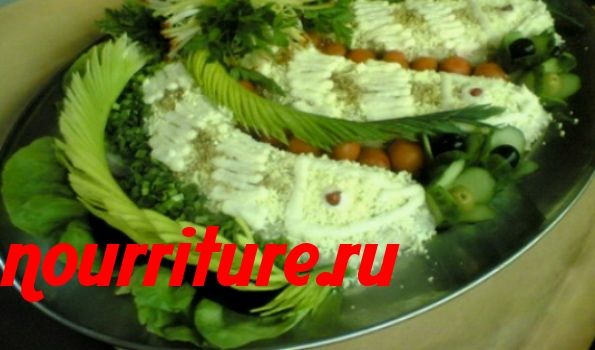 Ingredients
→ SALT
→ 30 G GREEN ONION
→ 3 TABLESPOONS SOUR CREAM (15% FAT CONTENT)
→ 200 G WHITE BREAD (WITHOUT CRUST)
→ 2 HARD-BOILED EGGS
→ 2 FRIED POTATOES
→ 1 TEASPOON MUSTARD
→ 1 TEASPOON OF 9% VINEGAR
→ 1 CUP OF MILK
→ 1 SALTED CUCUMBER
→ 1 SALTED HERRING (200 G)
→ 1 FRESH TOMATO
→ 1 FRESH CUCUMBER
→ 1 ONION

Gut the herring, cut off the head, tail and fins, rinse with boiled water and remove the skin (see "Cutting fish"). Then remove the bones, finely chop, mix with the white bread soaked in milk and pass through a meat grinder. Put the resulting mass in a herring bowl.

Rub the boiled yolks with vinegar, add mustard, sour cream, a little salt, mix everything and pour it over the herring.

Finely chop the cooked egg white together with the green onions and sprinkle with the herring. On the sides of the herring can be overlaid with circles of fresh tomatoes, cucumbers and onions or fried potatoes and pickles.