Recipes
High-calorie sandwiches with herring, egg and pickle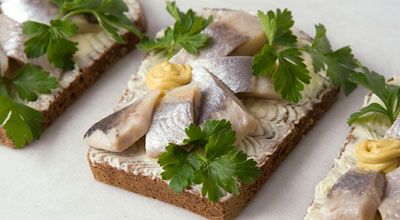 Ingredients
→ GROUND BLACK PEPPER
→ 50 G PARSLEY OR DILL
→ 2-3 TABLESPOONS CHOPPED GREEN ONIONS
→ 2 HARD-BOILED EGGS
→ 2 TEASPOONS LEMON JUICE
→ 2 TEASPOONS MUSTARD
→ 1-2 TABLESPOONS SOUR CREAM (15% FAT CONTENT)
→ 1-2 PICKLED CUCUMBERS
→ 100-150 G (4-6 SLICES) OF BLACK BREAD
→ 1 SWEET AND SOUR APPLE
→ 1 TABLESPOON SOFTENED BUTTER
→ 1 ONION
→ 1 LARGE SALTED HERRING

Peeled boneless herring fillet, onion, eggs and apple chop, mix with sour cream, season with pepper, mustard and lemon juice. 
Lightly toast the bread or spread it with butter, and put a thick layer of herring mixture on top. 
Sandwiches are decorated with circles of pickled cucumber, chopped green onions or parsley (dill).