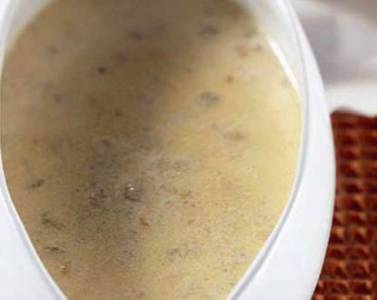 Ingredients
→ 5-8 PEAS OF BLACK PEPPER
→ 3 TABLESPOONS SOFTENED BUTTER + 10 G BUTTER FOR DRESSING SAUCE
→ 2 TABLESPOONS GRATED HORSERADISH ROOT
→ 2 TABLESPOONS 5% VINEGAR OR 1 TABLESPOON 9% VINEGAR
→ 1 CUP MEAT BROTH
→ 1 TABLESPOON WHEAT FLOUR
→ 1 BAY LEAF
→ 0.5 CUP SOUR CREAM (15% FAT CONTENT)

Lightly fry the flour with the same amount of oil, dilute 1 cup of hot meat broth, add sour cream and cook over low heat for 5-10 minutes.

At the same time, prepare the horseradish: in a small saucepan or in a frying pan, put 2 tablespoons of butter and 2 tablespoons of grated horseradish and lightly fry. Then pour in 1-2 tablespoons (depending on the strength) of vinegar and the same amount of water or broth, add 1 bay leaf, 5-8 peas of black pepper and put on fire to evaporate the liquid. Put the boiled horseradish in the prepared sauce, boil, and, removing from the heat, add salt.

At the end, add a piece of butter to the sauce and stir everything.