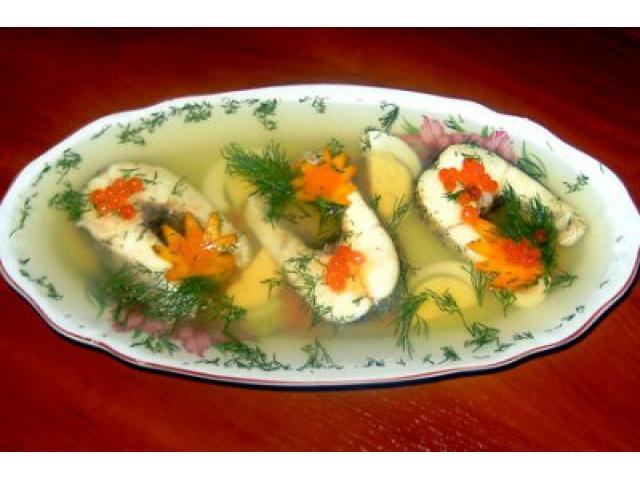 Ingredients
→ SALT
→ 50 G OF CELERY ROOT (OR ABOUT 2.5 TEASPOONS OF DRY CELERY ROOT))
→ 36 G GELATIN
→ 200 G HORSERADISH ROOT
→ 200 G GREEN ONION
→ 2 KG OF WALLEYE
→ 10 PEAS OF ALLSPICE
→ 1.5 L FISH BROTH
→ 1 CARROT
→ 1 ONION
→ 1 BAY LEAF
→ 1 PARSLEY ROOT (OR 3\4 TEASPOONS DRY PARSLEY ROOT)

To prepare
aspic from
walleye, peel, gut, wash, cut into portions (see the article "Cutting fish"), put in a saucepan, add peeled and chopped roots, carrots, onions (whole), bay leaf and pepper. Add salt, cover with cold water and cook for about 15-20 minutes until tender. 
Remove the boiled fish from the broth, cool and put in a deep tray for aspic. Cook the fish broth for another 30 minutes, placing the fins and tail of the walleye there. 
The finished broth is filtered, combined with soaked gelatin (when soaking gelatin, fish broth is used instead of water: 32 g of gelatin is soaked in 2 cups of broth, then everything is heated, without bringing to a boil, filtered through cheesecloth (!) and poured into the rest of the broth). 
Then pour the broth over the walleye, after selecting the bones from it and removing the spine. Put the finished fish in the refrigerator for freezing for 24 hours. 
Zander aspic is served with horseradish and finely chopped green onions.