Recipes
Jellied sturgeon, stellate sturgeon, Beluga (white salmon, carp, catfish, salmon, pike, walleye)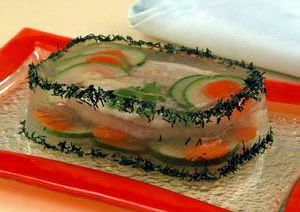 Ingredients
→ SALT
→ SALAD DRESSING
→ A FEW SLICES OF LEMON (FOR DECORATION)
→ A FEW SPRIGS OF PARSLEY (FOR DECORATION)
→ CAPERS (FOR DECORATION)
→ WATER
→ 50 G OF CELERY ROOT (OR ABOUT 2.5 TEASPOONS OF DRY CELERY ROOT)
→ 25-30 G OF GELATIN
→ 1-2 BOILED POTATOES (FOR DECORATION)
→ 1 ONION
→ 1 PARSLEY ROOT (OR 3\4 TEASPOONS DRY PARSLEY ROOT)
→ 1 KG OF STURGEON, STURGEON OR BELUGA, NELMA, CARP, CATFISH, CHUM SALMON, PIKE OR WALLEYE
→ 1 BOILED TURNIP (FOR DECORATION)
→ 1 BOILED CARROT (FOR DECORATION)

Cook a piece of sturgeon, beluga or sevryuga in salted water together with the roots and cool (see the articles "Cutting fish" and "Features of cooking boiled fish"). 
From the broth obtained by cooking fish, prepare a transparent jelly (1.5 teaspoons of gelatin per 1 cup of broth). Ready and filtered jelly to cool. 
Cut the cooked fish into thin pieces, clean off the cartilage and skin, and place on a baking sheet so that there is room for jelly around each piece. Pieces of sturgeon are decorated with parsley leaves, lemon slices, carrots, disks of fresh cucumber, pieces of crabs and crayfish, capers. Decorations should be fixed with chilled jelly, pouring them on pieces of sturgeon with a spoon. After that, in two or three steps, pour an even layer of jelly. 
When the aspic is frozen, cut each piece with the end of a knife and place it beautifully on a platter, and then garnish with one or both sides with bouquets of boiled carrots, turnips, potatoes (in the form of stars or disks). Before serving, pour the garnish with a dressing of oil and vinegar. Separately offer mayonnaise and horseradish with vinegar. 
In the same way, you can prepare aspic from chum salmon, walleye, nelma, pike, catfish, carp.