Recipes
Lampreys in a spicy marinade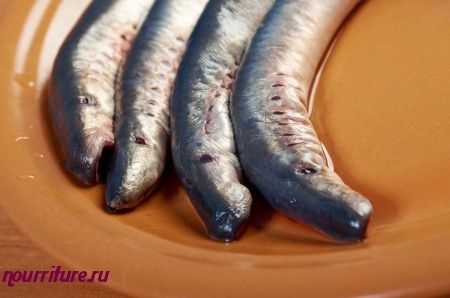 Ingredients
→ A FEW SPRIGS OF PARSLEY
→ 50 G OF 9% OF VINEGAR
→ 2 BAY LEAVES
→ 2 CLOVE BUDS
→ 10 PEAS OF BLACK PEPPER
→ 1 TBSP SALT
→ 1 FRESH CUCUMBER
→ 1 L OF WATER
→ 1 KG LAMPREY
→ 0.5 TABLESPOONS OF SUGAR

Ready-made fried lampreys (1 kg) put in a glass jar, pour hot marinade, cool and place in the refrigerator for 2-3 days. 
Products for the marinade: 1 liter of water, 1 tablespoon of salt, 0.5 tablespoons of sugar, 2 bay leaves, 10 peas of black pepper, 2 clove buds, 50 g of 9% vinegar. All of the ingredients, except the vinegar, boil. Then add the vinegar to the marinade and pour it over the lampreys. 
Lampreys are well stored in the refrigerator. They do not require an additional side dish. However, they are often served with beer or dry white wine, and as a decoration they use sprigs of parsley, slices of fresh cucumber and green lettuce leaves.