Recipes
Leto salad with smoked herring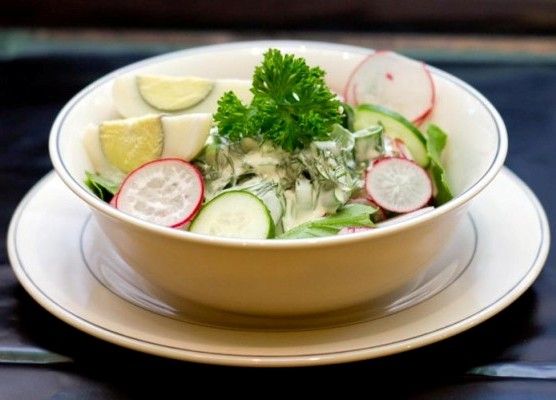 Ingredients
→ SALT
→ 8-10 YOUNG BOILED POTATOES
→ 50 G GREEN SALAD
→ 5 GREEN ONION STALKS
→ 4-6 RADISHES
→ 3-4 FRESH CUCUMBERS
→ 3-4 HARD-BOILED EGGS
→ 3-4 TOMATOES
→ 30 G PARSLEY OR DILL
→ 2 SMOKED HERRING + SEVERAL PIECES OF HERRING (FOR DECORATION)
→ 1 CUP SOUR CREAM (15% FAT CONTENT) OR SALAD DRESSING

Boneless fillet of smoked herring (see "Cutting fish") cut into small pieces, and boiled potatoes, radishes, cucumbers and tomatoes – circles. Cut the onion stalk into 4 pieces. Chop the lettuce leaves into strips.

Mix all the ingredients, add salt, season with sour cream or salad dressing (see "Salad dressing ordinary", "Salad dressing with olive oil", "Salad dressing with mustard and coriander").

Put the salad in a slide in a salad bowl, decorate with slices of smoked herring, tomato slices, lettuce leaves, cucumber circles, and at the end sprinkle with finely chopped parsley or dill.