Recipes
Ligurian pizza (without cheese or with cheese)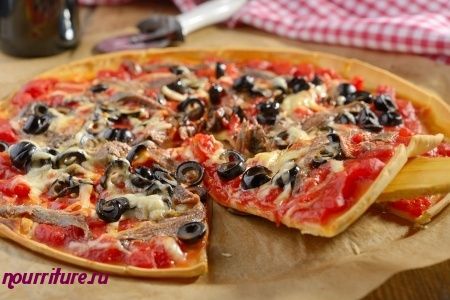 Ingredients
→ SALT
→ 600G FRESH RED TOMATOES
→ 400 G WHEAT FLOUR
→ 4 PIECES BONELESS ANCHOVY FILLET (HERRING)
→ 30 G VEGETABLE OIL
→ 30 G BASIL
→ 20 G YEAST
→ 2 GARLIC CLOVES
→ 150 G OF CHEESE
→ 12 PITTED BLACK OLIVES
→ 100 G BUTTER
→ 1/3 CUP MILK
→ 0.5 CUP WATER
→ 0.5 ONION
→ ¾ TEASPOON OREGANO

Products for the dough: 400 g of wheat flour, 20 g of yeast, 100 g of butter, 0.5 cups of water, 1/3 cup of milk, a pinch of salt.
Products for filling: 600 g of fresh red tomatoes, 4 pieces of boneless anchovy fillet (herring), 0.5 onions, (150 g of cheese), 2 cloves of garlic, 12 pitted black olives, 30 g of basil, 30 g of vegetable oil, ¾ tsp of oregano.
Prepare the dough bezoparnoe yeast dough (see the material "Features of preparing dough without sourdough").
Fry the onion slices in vegetable oil until golden brown, add the tomatoes, peeled and sliced, add salt, simmer for 30 minutes, then remove from the heat, add the chopped basil and anchovy pieces (see the article "Cutting fish").
Roll out the dough. Put it in a frying pan so as to cover the wall, and put the prepared filling, adding garlic, olives and grated cheese (optional). Sprinkle oregano on top of the pizza. Close the edges of the dough.
Put the pizza in the oven and bake at a temperature of 170-180 degrees for 30-40 minutes.