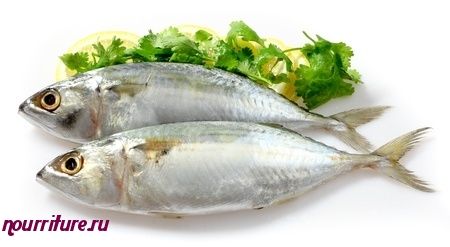 Mackerel-Atlantic mackerel-belongs to the family of mackerel, lives in the temperate waters of the Atlantic, Pacific and Indian oceans. It has dark gray skin without scales. 
Mackerel meat is tender, delicious, and differs in the absence of small bones. Often used for making preserves and balyk products. In addition, mackerel is salted, smoked hot and cold, boiled, seasoned, baked, stewed in sour cream, tomato or marinade, grilled, adding spices (Bay leaf, pepper) and prunes.
It is not recommended to cook aspic and first courses from mackerel, as it has a dark meat color with a strong specific smell. 
Depending on the fishing location and appearance, there are several types of mackerel: king, spotted, striped and Golden. The fat content of the meat of various types of mackerel varies, it ranges from 0.4 to 10%. 
It is important to keep in mind that the fat of mackerel is very quickly oxidized in the air, so when preparing it in ice cream, it is necessary to use protective coatings.