Recipes
Mackerel with dill, steamed (for diabetes and heart disease)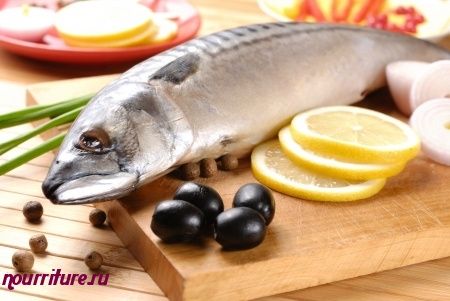 Ingredients
→ SALT
→ JUICE OF 1 LEMON
→ GROUND BLACK PEPPER TO TASTE
→ 3-4 TABLESPOONS OF CREAM
→ 2 ONIONS
→ 2 SPRIGS OF TARRAGON (1 TEASPOON)
→ 150 G OF DILL
→ 1 KG OF MACKEREL
→ 0.5 TEASPOONS DRY SAGE

With a sharp knife, the belly of a whole mackerel is cut open, and without cutting off the tail and head, the entrails are removed, the fish is cleaned of scales and thoroughly washed (see the article "Cutting fish"). Then the mackerel is salted from the inside, sprinkled with lemon juice, rubbed with ground black pepper and other dry spices. 
For stewing, mix 2-3 cups of vegetable broth (you can boil 1\2 chopped onions, 2 chopped carrots, sage tarragon to taste) with the juice of 1\2 lemon, add one coarsely chopped onion and pour everything into a saucepan. 
Cover the mackerel with fresh dill and onions (rings), then put it on the grill so that it does not come into contact with the stew liquid, cover the pan with a lid and stew the fish for about 45 minutes. (In the absence of a special pan for steaming (steamer), you can do the following: find a pan that is tightly covered with a lid, pour a little stewing liquid into it, set two ceramic cups on the bottom of the pan, and on them a dish with fish, covered with spices, herbs and onions. The steam in the pan should circulate freely. The liquid at the bottom of the pan heats up quickly, so cooking the fish does not take much time.) When the fins are easily separated from the back of the fish, the fish should be removed from the pan, free from spices and served to the table, seasoned with dill sauce. 
Dill sauce: 1\4 liters of strained liquid in which the fish was stewed, season with finely chopped dill, 3-4 tablespoons of cream and a few drops of lemon juice.