Recipes
Mayonnaise from sturgeon, stellate sturgeon, Beluga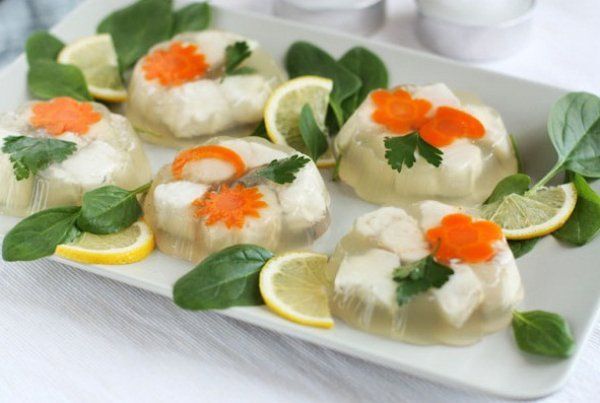 Ingredients
→ MUSTARD SAUCE WITH CAPERS
→ BOILED CARROTS
→ STURGEON, BELUGA, STELLATE STURGEON OR
→ MAYONNAISE
→ GREENERY

Mayonnaise from sturgeon, stellate sturgeon or Beluga make as and mayonnaise of walleye, salmon or trout (see recipe "Mayonnaise of walleye, salmon or trout"), with the only difference that the fish need to cook a piece of fish stock (see recipe "Fish broth") to prepare jelly (see recipe for "Jelly based on fish broth").

If the dish is intended for a snack, then the boiled fish should be cut into small slices: first, separate the transverse piece of fish, cut off the skin, then cut the piece into several slices and level. Place the slices on a platter, then cover each slice with mayonnaise and jelly (2/3 cup mayonnaise, 1/3 cup jelly). Each slice is decorated with green leaves, figures of boiled carrots, etc. Fix the decorations with the cooled jelly, pouring it with a thin layer from a spoon. Smooth the frozen mayonnaise slices and place them on a platter.

This aspic is served with mustard sauce with capers (see the recipe "Mustard sauce with capers") or mayonnaise.