Recipes
Mixed salad with boiled fish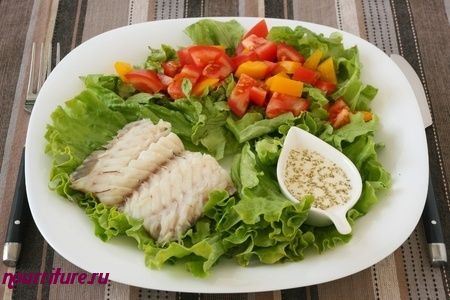 Ingredients
→ SALT
→ 300 G OF SMALL-BONED FISH
→ 3 TABLESPOONS MAYONNAISE
→ 2 SWEET AND SOUR APPLES
→ 2 TOMATOES
→ 1\4 TEASPOONS GROUND BLACK PEPPER
→ 1\3 TEASPOONS RED HOT GROUND PEPPER
→ 1 TEASPOON TABLESPOON MUSTARD
→ 1 PICKLE
→ 1 HEAD OF ONION

Boil the fish in a small amount of salted water (see the articles "Cutting fish", "Features of cooking boiled fish"), remove from the broth, cool, remove the bones and cut the fillet into small pieces. 
Cut tomatoes and pickles into cubes. Wash the apples, remove the core and peel, and then cut into cubes. 
Peel and finely chop the onion. 
Mix the fish with onions, apples, tomatoes and pickled cucumber, season with black and red hot pepper, salt, mustard and mayonnaise and mix thoroughly. 
Serve this salad to the table better chilled.