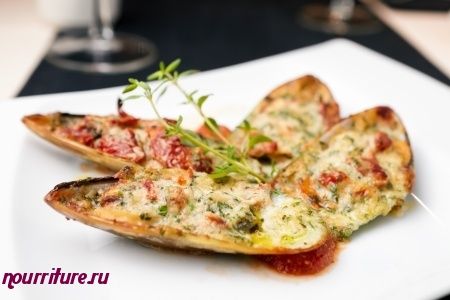 Ingredients
→ WATER
→ 2 TABLESPOONS GRATED CHEESE
→ 10-12 PIECES OF LIVE MUSSELS
→ 1 TABLESPOON SOUR CREAM
→ 1 LEMON

Mussel shells are cleaned and well washed. Then they are filled with water (the ratio of mussels and water is 1:2) and cook at a low boil for 10-15 minutes until the flaps open.
The cooked mussel meat is removed, the bisus (the attaching organ) and one of the shell flaps are removed. Then the mussel meat is washed and put back on the sash, smeared with sour cream on top and sprinkled with grated cheese. 
The prepared mussels are placed in a frying pan, pour a little water into it and put in the oven. 
Mussels are served with lemon.