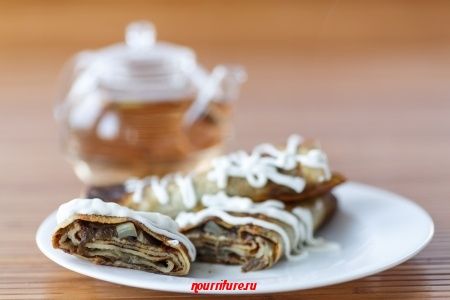 Meat dishes of Northern Ukraine are home-made pork sausage, smoked bacon, ham, pork ribs with beans. 
In Polesie they know how to cook meat dishes and do it almost perfectly. Many people know Zhytomyr liver – this is the name of pre-fried pork stewed with vegetables and mushrooms in a ceramic dish. The dish turns out juicy, tender, mushroom flavor is perfectly combined with garlic dressing, and the vegetables used as a layer during cooking are so delicious that they deserve a separate description.
Unlike other regions of the country, dairy dishes are widely spread in the North of Ukraine. In Zhytomyr and Chernihiv regions, they prepare delicious gusli, ryazhenka, and mochanka. These dairy delicacies have a delicate taste and high nutritional value, can be used as separate dishes, and as a Supplement to the dessert.
Traditional Polesie dishes include Polesie Solyanka and potato pancakes with mushrooms. In General, mushrooms are widely and variously used in cooking in the North of Ukraine. Mushrooms are used for cooking borscht, they are added to a roast, stewed in sour cream, served as a snack, meat is garnished, fish and pancakes are stuffed with mushrooms, and cutlets are prepared from them. For the future, mushrooms are salted, pickled, canned fried, frozen freshly boiled, and also made from mushrooms mushroom powder, one whisper of which gives any sauce a unique flavor. And this is normal: the mushroom-rich forests of Northern Ukraine give the country's cooks a rare chance to use a unique product to create gastronomic works of art.
Chernihiv region is famous for its authentic aperitifs. Here they prepare Mead, the recipe of which has been known since time immemorial, and the taste is called simply divine by gourmets and connoisseurs of strong wines. 
Sokyrinskiye Meads and sbitni are a separate story from the Polesie cuisine, which has survived for centuries and has come unchanged to the modern cooking of the region. It is not for nothing that state competitions "Potable honey" are regularly held in Chernihiv region, where Ukrainian honey producers present their unique products. Here you can taste honey kvass, teas, sbitni, honey with the addition of aromatic herbs and juices, fizzy honey drinks. In short, authentic drinks of Ukraine based on honey are the national heritage of the country and its brand. Such honey-buckwheat and Linden, which is collected by beekeepers of Polesie, is not found anywhere else.
And, of course, in the North of Ukraine, as in other regions, prepare uzvar. Compote based on dried apples, pears, cherries, plums is cooked with the addition of raisins. And if in the kitchen, for example, in Eastern Ukraine, uzvar is prepared with sugar, then in the North, honey is added to the ready-made chilled drink for sweetness and aroma. Believe me, the real Polesie uzvar is worthy of description in verse. Perhaps Demeter, the goddess of fertility, prepared the drink of the gods, ambrosia, exactly according to the recipe of the Polessky uzvar.